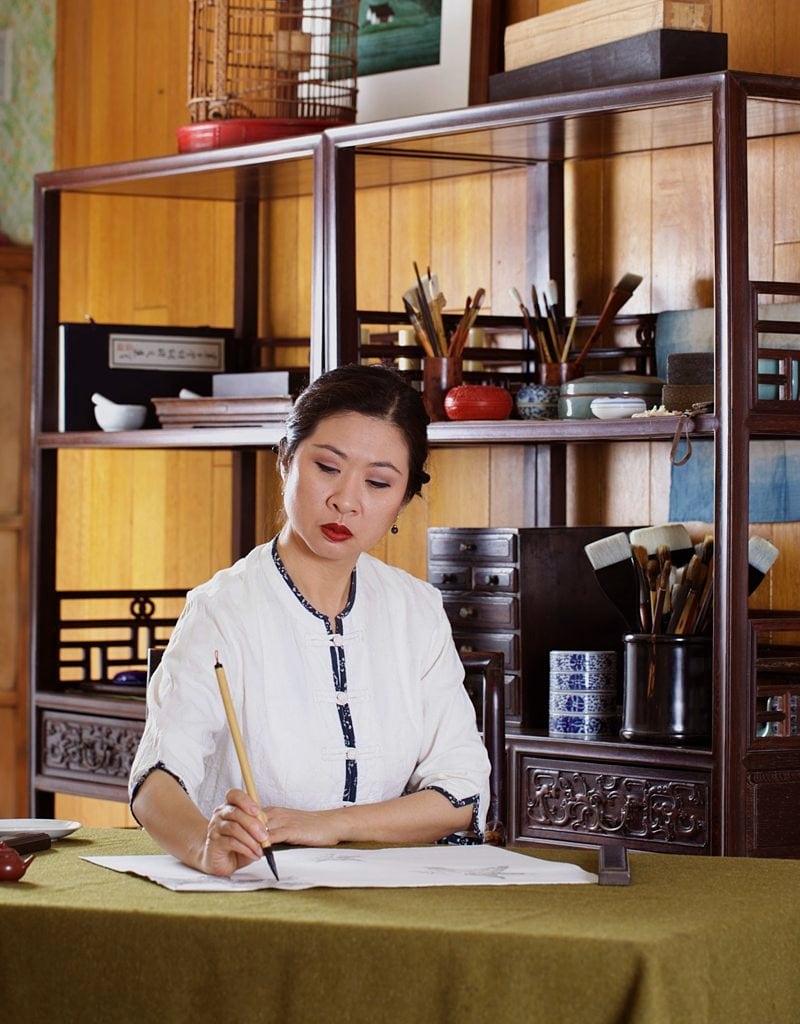 WELCOME TO MY TRANQUIL STUDIO
It is important to me to use the highest quality materials and the best tools. On this page, I will share information about the materials and tools that I use for creating my paintings, such as; brushes, ink sticks and ink stones, paper, pigments, and seals.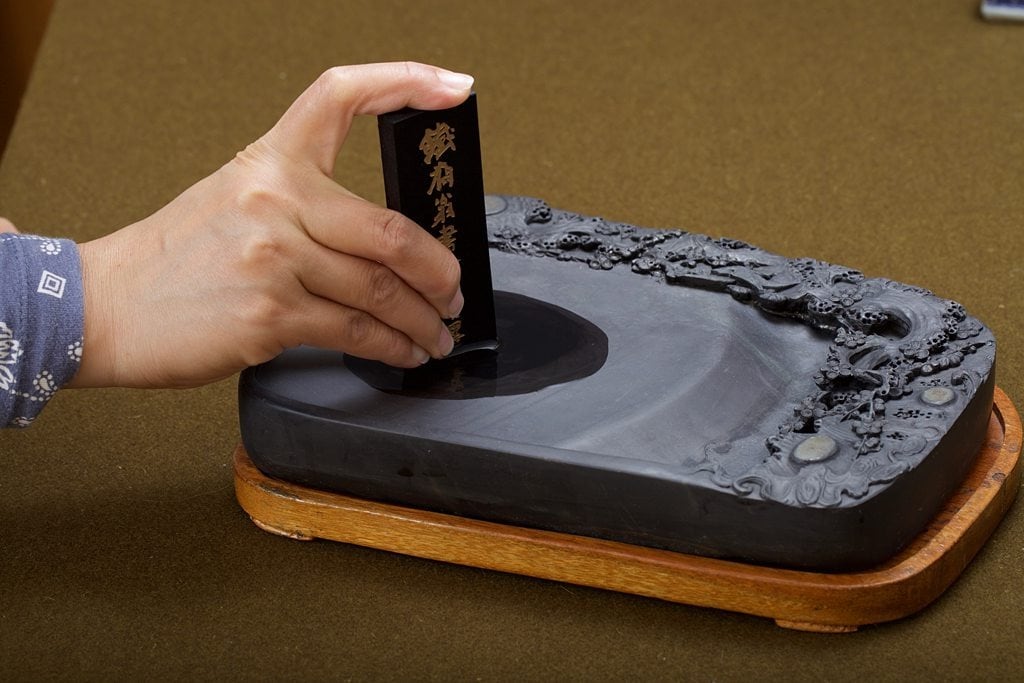 INK
Each of my paintings is made with freshly ground ink. I prepare my ink by grinding a dry ink stick in a small puddle of water on a finely abrasive ink stone. With a slow and steady grinding motion, the ink stick's surface dissolves on the stone. The ink is ready for use when it reaches an almost oil-like consistency and richness of tone. I take about half an hour to grind enough ink for a day's work. Grinding ink is very calming; it gives me an opportunity to contemplate ideas for what I will be painting. Ink sticks are made of soot. Lumps of soot are pounded together with glue, and mixed with a bit of camphor until it becomes a thick paste. It is then poured into molds and left to dry into a solid block. Good ink stones must be hard, non-porous, and have a fine grain, without being too smooth, to bring out the finest quality of ink.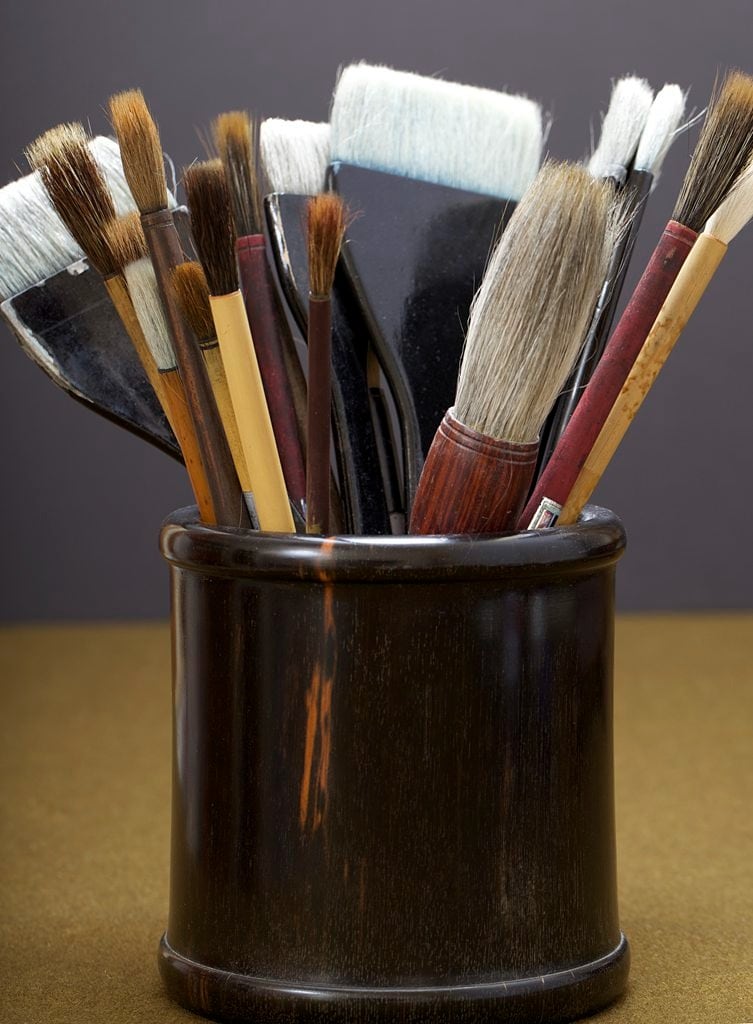 BRUSHES
The quality of brushwork is one of the defining elements in Chinese ink painting. Therefore, good hand-made brushes are necessary for ink painters. These brushes can be made from a wide variety of animal hair. They fall into three basic categories: soft-hair brushes (such as goat or sheep hair) used for coloring and washes; hard-hair brushes (such as horse hair) used for creating strong strokes; and a mixture of the two, with a hard core and a softer outside, used for creating fluent strokes.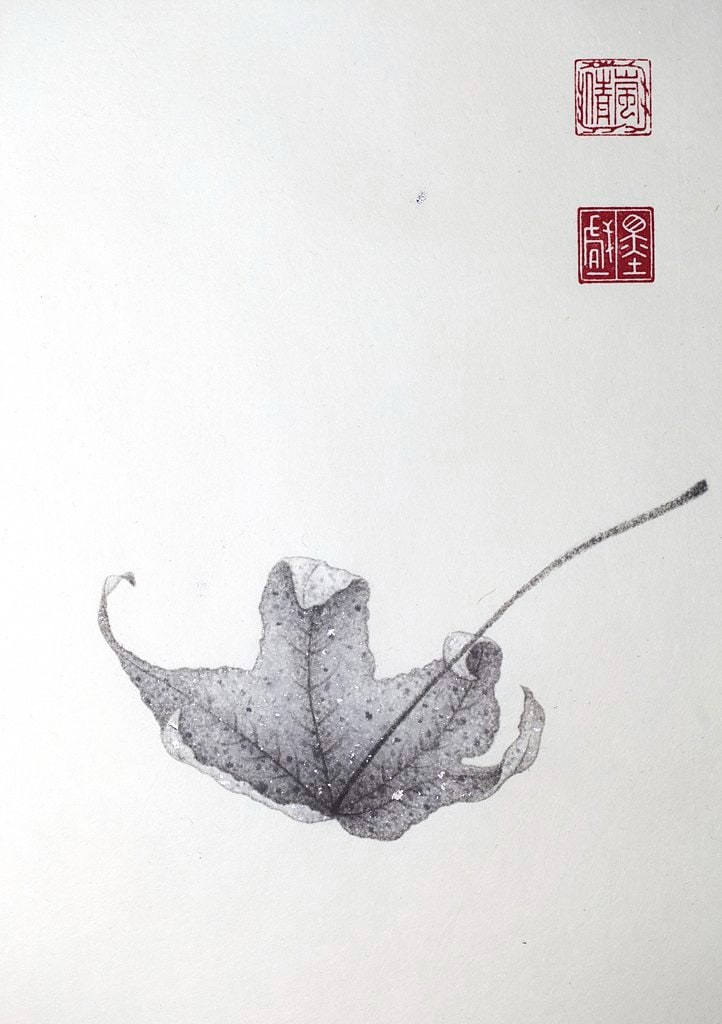 PAPER
Paper is among the most important Chinese inventions. It was invented around 100 CE during the Han Dynasty. The first paper was made from rags, but later plant materials were introduced. Today, Chinese paper is most commonly made of mulberry, bamboo, and hemp fibers. Chinese paper comes in several types and many qualities. Some papers are sized and treated with alum and glue, some are unsized, and some are semi-sized. I select my paper depending on the techniques and effect that I want to achieve. I only use high-quality sized and unsized hand-made paper for creating my paintings. The image on the left is the detail of my painting Autumn Leaves; for creating this work, I chose unsized hand-made paper.
Details of Autumn Leaves (2014)
by Wu Lan-Chiann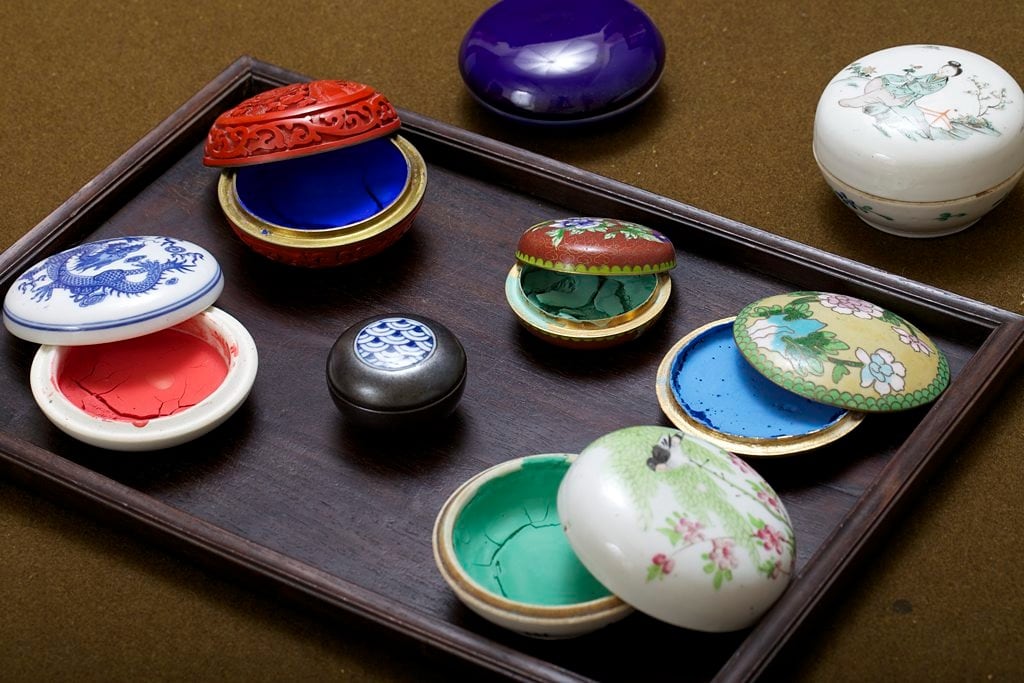 COLORS
The colors used in Chinese ink painting are made from mineral and plant-base pigments. The main mineral pigments are cinnabar, red ochre, carmine, azurite blue, malachite green and clamshell white. The main plant pigments are rouge, gamboge, and indigo. Gold leaf and silver leaf are also used. These are the main colors that I use in my paintings.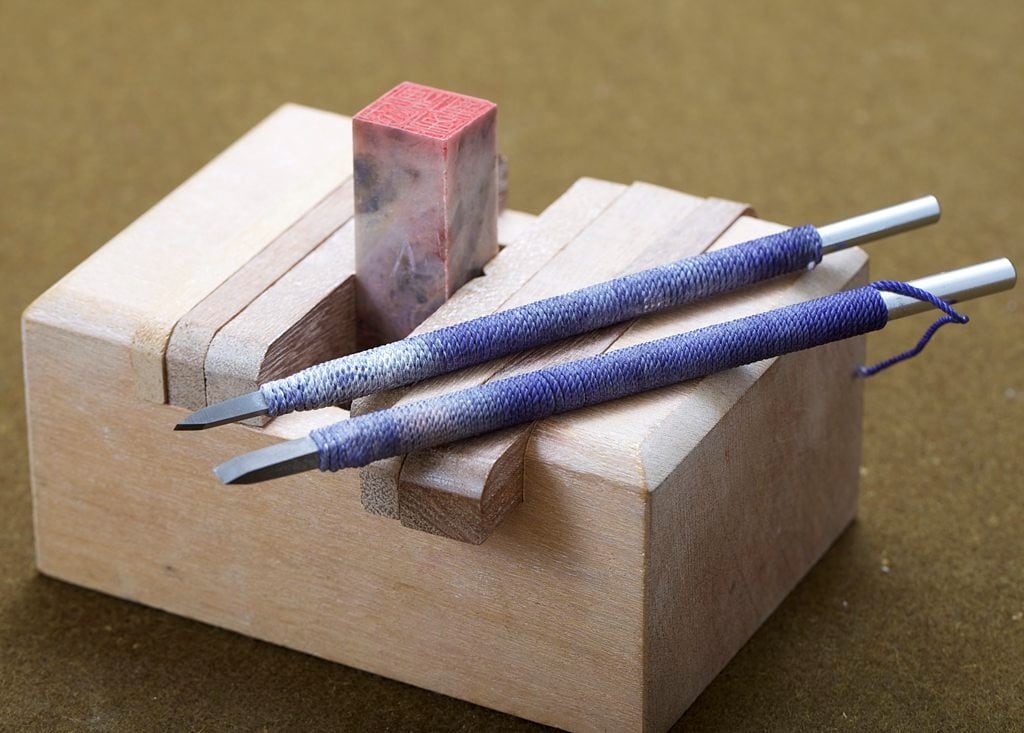 SEAL CARVING
When a painting is complete, I sign it with ink and stamp it with a red seal. This is very common in ink painting. Sometimes I use more than one seal to sign my work. I design and hand carve my own seals. Stamping a seal with my name on the painting means that I stand by the quality of my work. The image on the left shows a fine seal stone placed in a wooden vice. This stabilizes the stone while I carve it with various-sized burins.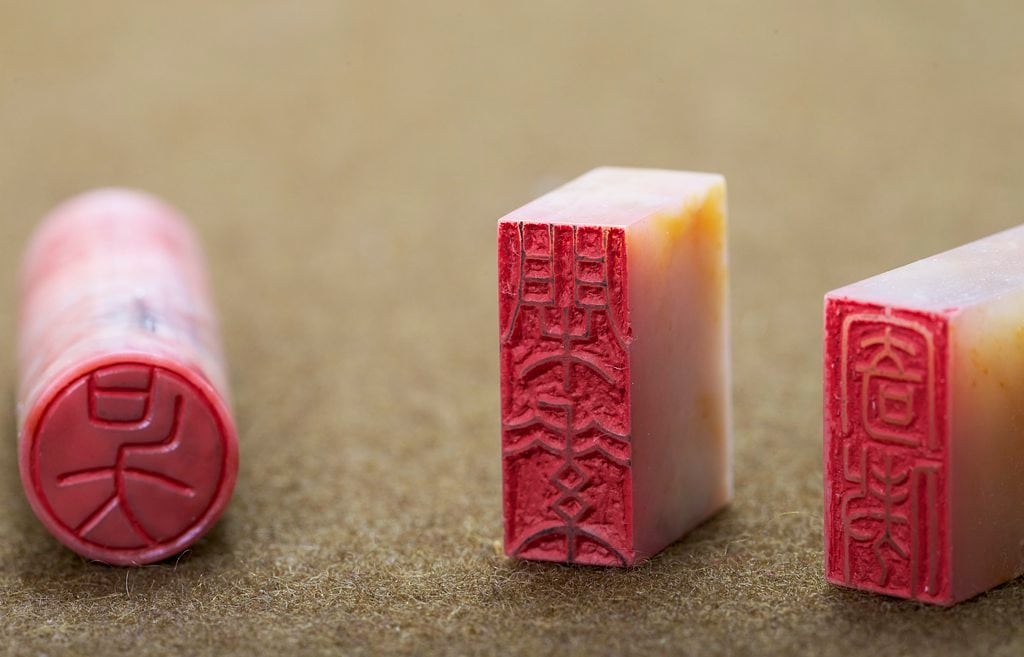 SEALS
I use seals to sign my name or to add a poetic idea or dedication to enhance the meaning of the painting. Seals are made of a variety of hard materials suitable for carving. They are pressed into a bright red paste derived from the mineral known as cinnabar. A good seal color will not fade for hundreds of years, and a firm and equal pressure on the seal will insure an imprint that will remain legible practically throughout the life of the painting. The colophon and signature of the artist, together with the seals often play an important role in establishing the authenticity of a painting.