Techniques and Inspiration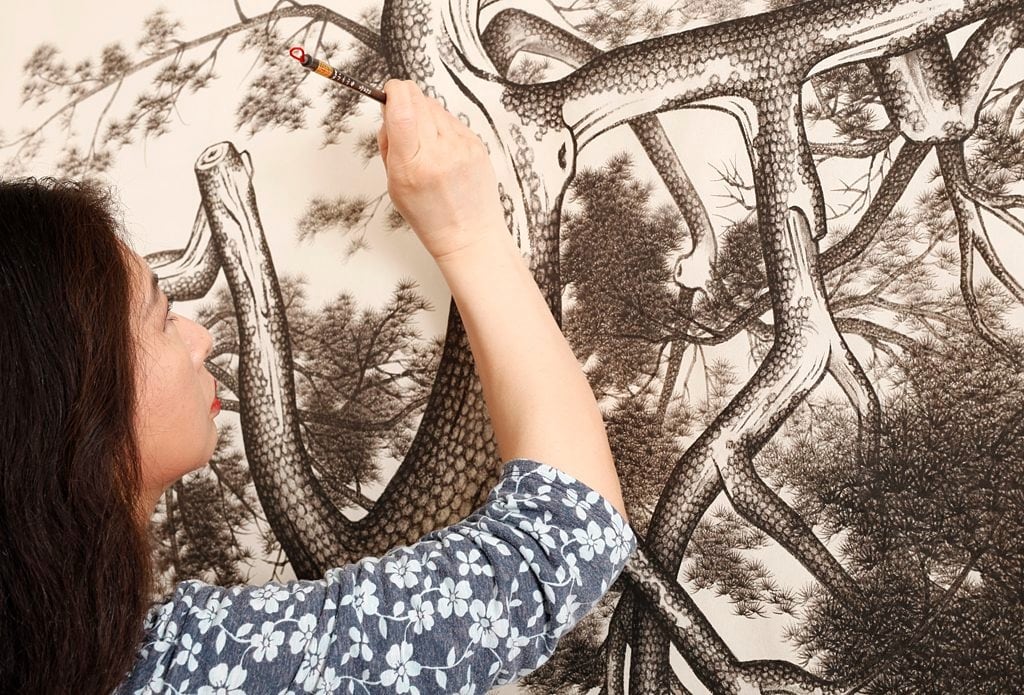 Welcome to my Tranquil Studio
I have always been fascinated by the universal values and principles that are inherent to every society. I explore the values and themes that connect us as one across time and place. This is at the core of my work and has been my inspiration. Both Western art and Chinese art have unique qualities, which I equally value and embrace. I want my work to serve as an entry point to understanding the depth, beauty, and rich tradition of Chinese ink painting.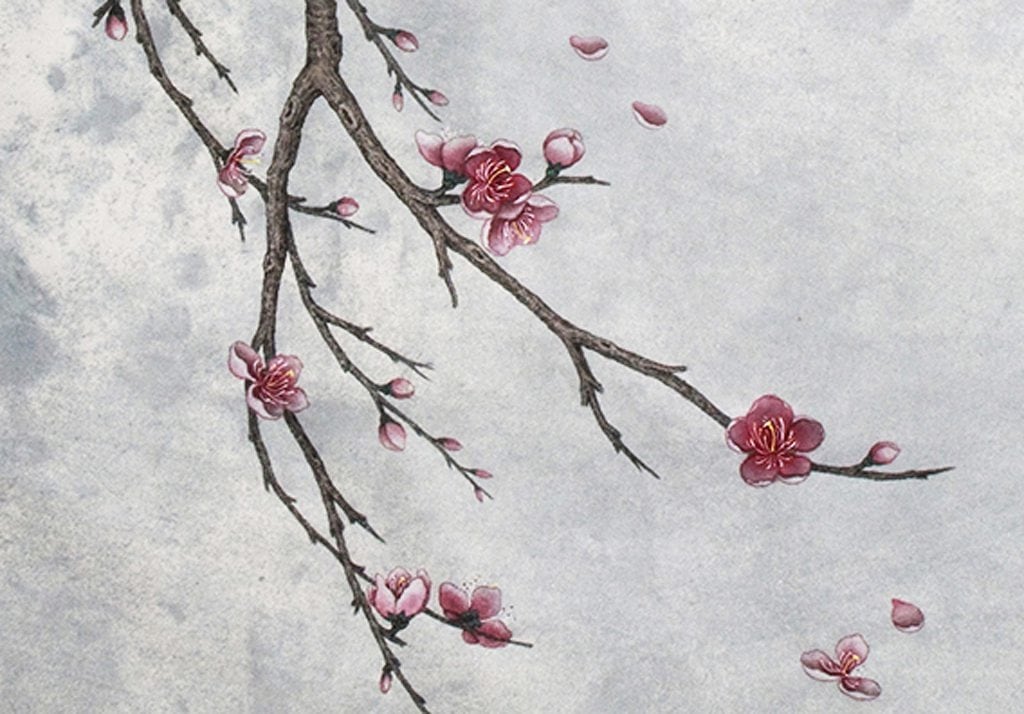 BrushStrokes

The quality of each brushstroke is tremendously important in Chinese ink painting. It has to be strong and controlled, yet dynamic, fluid, and delicate. Painting on Chinese paper with watery ink requires absolute mastery of the medium because mistakes cannot be corrected. Errors are unforgiving; the moment a brush touches the paper, ink is absorbed and what has been painted cannot be erased. Consequently in this medium, free expression can only be achieved through mastery of medium and techniques. Only then can you express yourself fully. More than a thousand years ago, Chinese Landscape painter Kuo Hsi (ca. 1020 - ca. 1090) commented: "A painter should be master over, and not a slave to, his brush and ink."
Detail of Winter Breeze (2008)
by Wu Lan-Chiann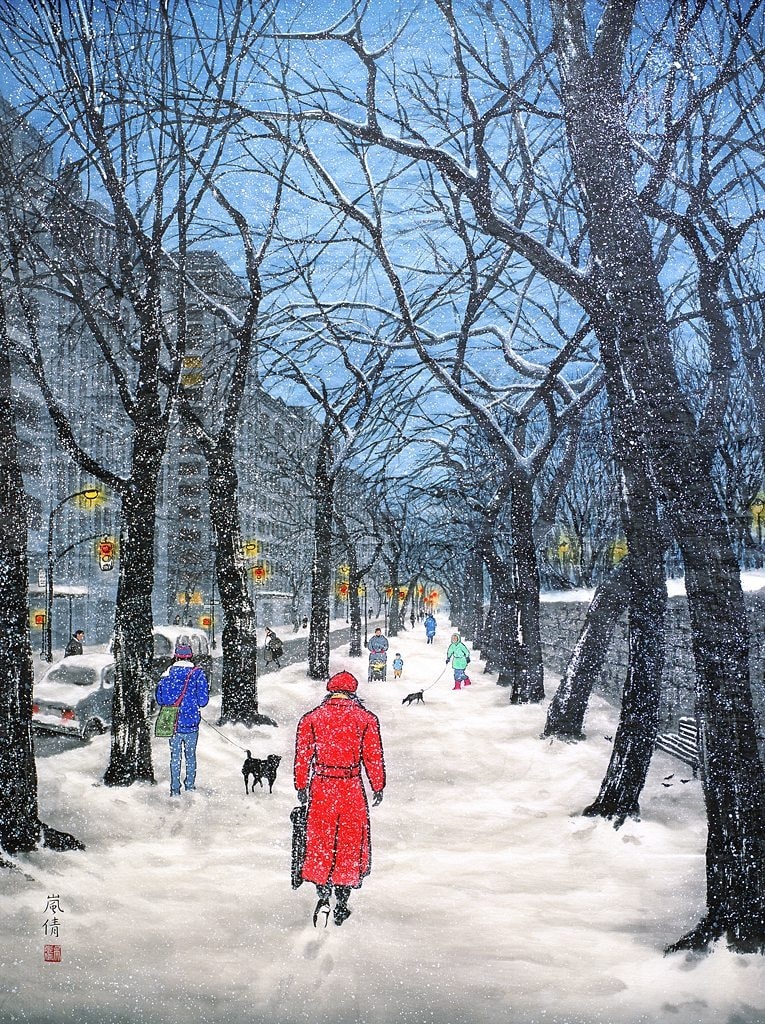 PERSPECTIVE
I have always been attracted to the use of single-point perspective, which is more commonly found in Western painting. For example, my painting Snowflakes Quietly Descending (1999) shows my interest in perspective. In preparation for creating Snowflakes Quietly Descending, I stood in the snow and observed it falling around me day after day. During that time, I was surveying the scenery, making sketches, taking notes, and collecting impressions. Then I brought these studies back to my studio to complete the composition. The original work is quite large, so when you stand at a certain angle and look at the painting, it is as if you can walk right into it. Snowflakes Quietly Descending is a view of Fifth Avenue in Manhattan, looking south from the Guggenheim Museum on the corner of 89th street. In this particular painting, I captured a quintessential New York City "landscape" during a light winter storm. The painting expresses my love of the city.
Snowflakes Quietly Descending (1999)
by Wu Lan-Chiann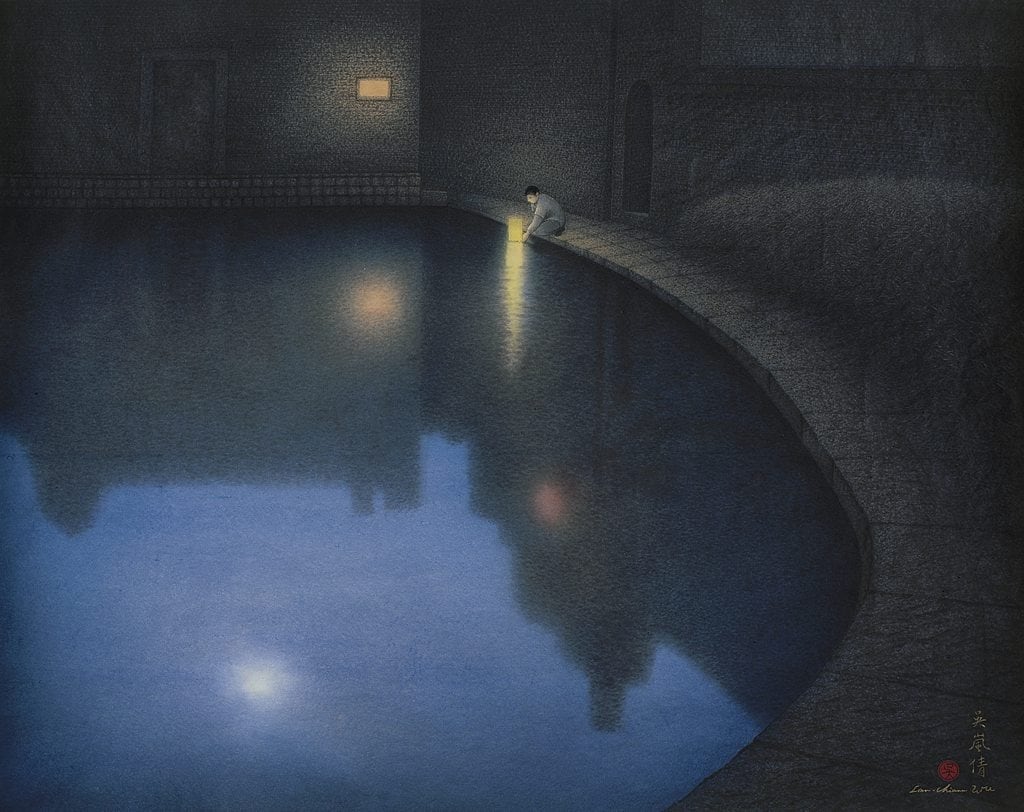 I have always been fascinated by light and how best to capture it in ink painting. In my darker paintings, the recurring use of light, or sometimes only glimmers of light, are metaphors for human resilience; the love, hope, and strength that we all harbor. My painting Precious Light (2012) is a good example. Resilience is a center theme in this painting. It is the innate strength that we all share, which helps us endure difficult phases in our lives. The lonesome boy in Precious Light expresses my belief that each individual deals with their memories in a very personal way, which in this painting is particularly poignant.

Precious Light (2012)
by Wu Lan-Chiann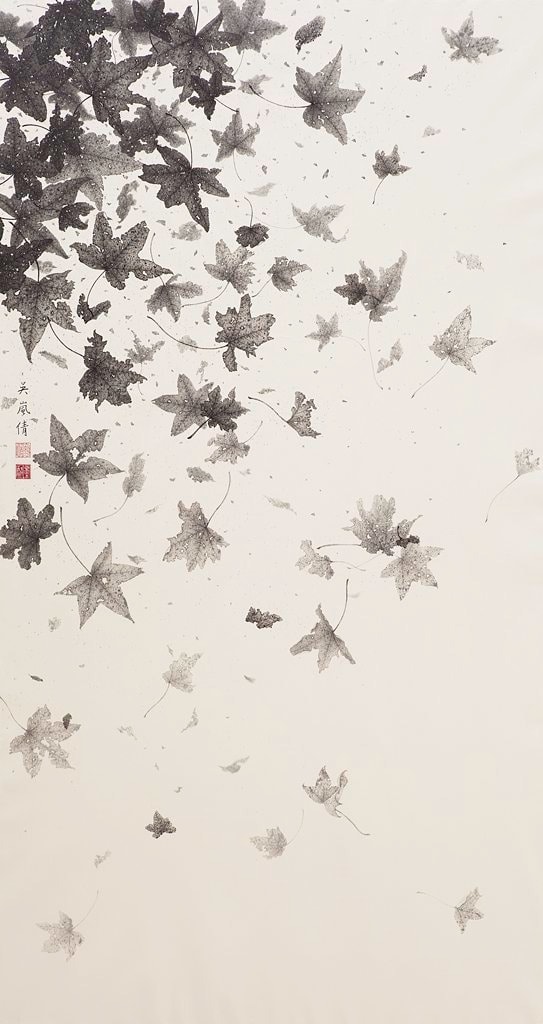 Inspiration
Our humanity - our core values and principles - is what binds us together as people across time and place. That is what matters to me and it has been the inspiration for my work. For example, in my painting, Before the Storm (2015), each leaf has its own cycle, its own unique shape and color, its own way of floating through the air, and has a different path of falling to the earth. The leaves represent human beings - each one of us has a different upbringing, life experience, and destiny. Eventually, however, we touch the ground, the end of it all, and a new generation is to come. In addition, I painted some leaves clear and some vague; some are rendered complete and yet others damaged, just as reflected in people's lives. Some have a clear direction, but others are hurt and lost, some lives are peaceful and others are turbulent, all captured in one painting.
Detail of Before the Storm (2015)
by Wu Lan-Chiann